Reading at Altofts Junior School

At our school, we believe that creating a culture of reading is a vital tool in ensuring our children
are given the best life chances. Cultivating readers with a passion for a wide range of materials
will ensure that children's love of reading will extend far beyond the classroom and allow them to
build on their skills independently through a real curiosity and thirst for knowledge. Through our
discussions and research, we believe that the following principles are at the forefront of our
approach to reading.

• Reading is challenging
We develop our understanding and command of the English language through our experience of
and exposure to challenging texts

• Reading is varied
We recognise that reading comes in many forms and is essential to everyday life

• Reading is explored
We use Guided Reading to interrogate texts through rigorous study

• Reading is inspirational
We are enthused and stimulated by what we read and use the ideas and techniques
that we have experienced when reading to inform our own written work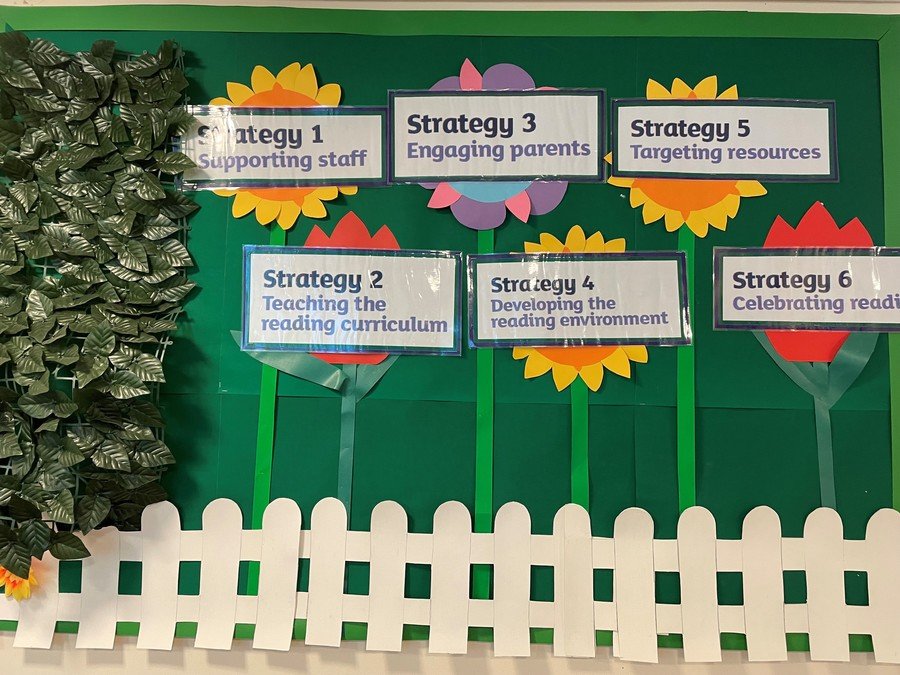 As we develop reading at Altofts Junior School, we apply this to a 6 point strategy. Do new initiatives and school policies reflect how we support staff, the teaching of the curriculum, engaging parents, the reading environment, targeting resources and celebration.
Below are a list of key documents which outline the teaching of Reading at Altofts Junior.
Ten top tips for reading stories to your child

1 Make reading to your child feel like a treat.
Introduce each new book with excitement.

2 Make it a special quiet time and cuddle up so both of you can
see the book.

3 Show curiosity in what you're going to read:
Oh no! I think Arthur is going to get even angrier now.

4 Read the whole story the first time through without stopping
too much. If you think your child might not understand
something, model an explanation:
Oh I think what's happening here is that…

5 Chat about the story:
I wonder why he did that?
Oh no, I hope she's not going to…
I wouldn't have done that, would you?

6 Avoid asking questions to test what your child remembers.

7 Link stories to your own experiences (e.g. This reminds me of…)

8 Read favourite stories over and over again.
Get your child to join in with the bits they know.

9 Read with enthusiasm. Don't be embarrassed to try out
different voices. Your child will love it.

10 Read with enjoyment.
If you're not enjoying it, your child won't.
Reading Vipers

We use the Literacy Shed's "Reading Vipers" in our whole class and small group teaching. The
reading Viper approach helps to develop key comprehension skills and enables the children to become
more successful readers. Each of the letters stand for one of the key areas of key learning.
V- Vocabulary
I – Infer
P- Predict
E- Explain
R – Retrieve
S - Summarise text
Phonics at Altofts Junior
At Altofts, we use Read Write Inc. to support our phonics teaching.

Read Write Inc. Phonics is a DfE-validated systematic synthetic phonics programme with a wholeschool approach to teaching early reading and writing, designed to ensure progress for every child, in every primary school. It has proven success in all types of schools, including those with high numbers of children with SEND and those in the least privileged areas.

Children learn to read sounds and blend them into words. They apply this phonic knowledge to read
and comprehend Storybooks that are carefully matched to the sounds they know. Children learn to read these books with a storyteller's voice. The aim of Read Write Inc. Phonics is for children to learn to read early.

Everything knits together: The phonics supports the reading and writing; The reading supports the
writing, the writing supports the reading. That's why Ruth called it Read Write Inc
Why read to your child?
At Altofts Junior, we aim to ensure that all of our children become fluent, confident and engaged readers starting from the first day they arrive in school. Your role as parents and carers is of paramount importance in this process and reading to your child regularly will develop their love of books and also support them to understand the conventions of effective reading.
10 things to think about when you read to your child
Top 10 Tips for effective story reading at home.
How to say the sounds - pure sounds
We teach our children the pure sounds every letter and group of letters make in the English language as soon as they enter school. By teaching these sounds in a systematic and comprehensive way enable our children to recognise sounds, read words and become fluent and confident readers. Below is a video that explains the importance of teaching 'pure sounds'. Please watch the video below.